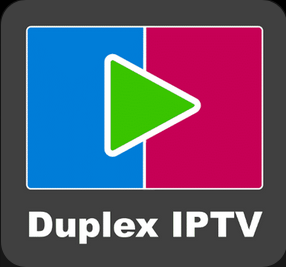 Duplex IPTV
Overview
Platform application to run your IPTV subscription content. Duplex IPTV is an easy to use interface with easy installation.
Most important feature are:
1- Multiple favorite lists
2- EPG support
3- Fast zapping
4- Small Preview beside channels list
5- Channels list over channel screen .
6- Parental Controls
Install Duplex IPTV
This IPTV application available for many different operating systems and devices :
Android and Android TV play store: https://play.google.com/store/apps/details?id=com.duplexiptv
LG smart TV (WebOS) : available in the LG content store
Samsung TV (Tizen OS) : available in the Official Samsung App Store (USA store only)
Windows and Xbox : Install from Windows store > https://www.microsoft.com/en-us/p/duplex-iptv/9nl17vql56w4
Amazon Fire TV : Read FAQ in End of this article to learn how install on Fire TV stick.
Setup IPTV playlist in Duplex IPTV
Time needed: 4 minutes.
setup and install IPTV on Duplex IPTV
Note your Device ID and Device Key After installing application , Open it and you will see the Device ID and Device key (You can find it by choose activation tab too)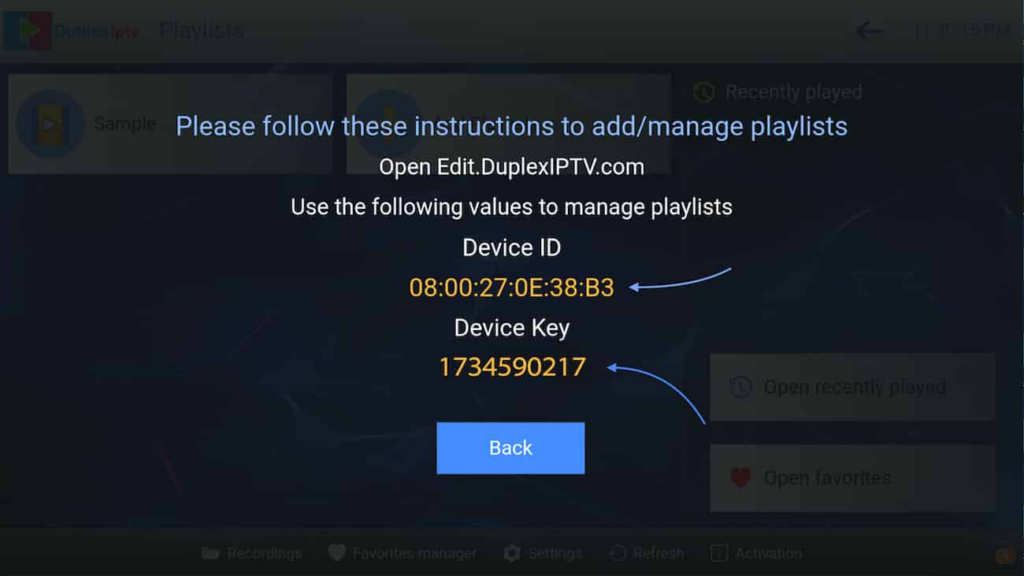 Login into Duplex IPTV management portal
Navigate to edit.duplexplay.com and Enter Device ID and Device key you noted in step 1 , Then click on Manage Device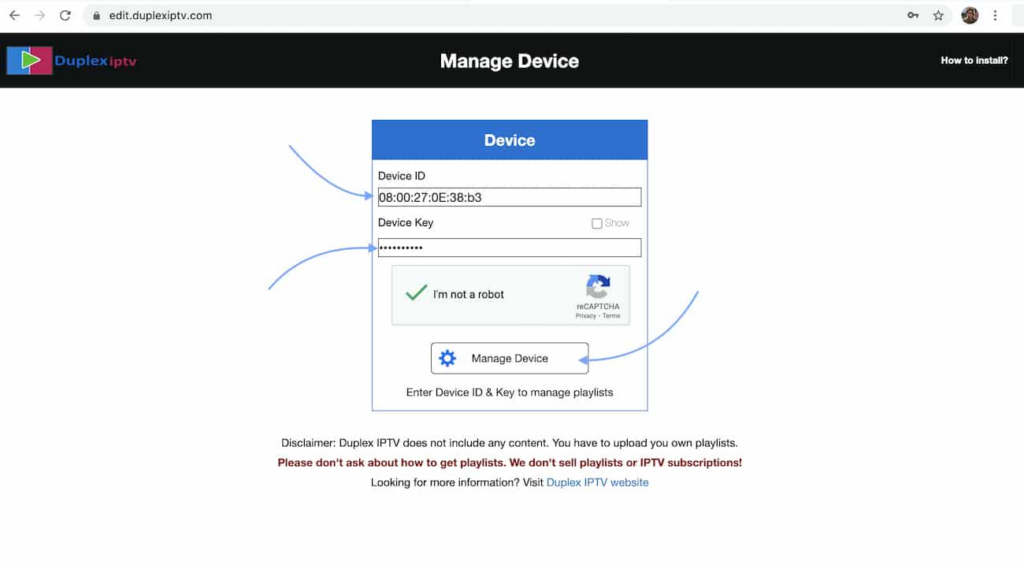 Add XC Playlist
You can add playlist via both method M3u Link and Xtream connection , We recommend to connect via XC (xtream) playlist.
and Fill your Xtream connection details which you must give from your IPTV provider , If you have not click here to place IPTV subscription now.
Playlist Name: You can set any name for your playlist.
Enter Username , Password and Host (Server URL of xtream connection). Activate Captcha and click on Save .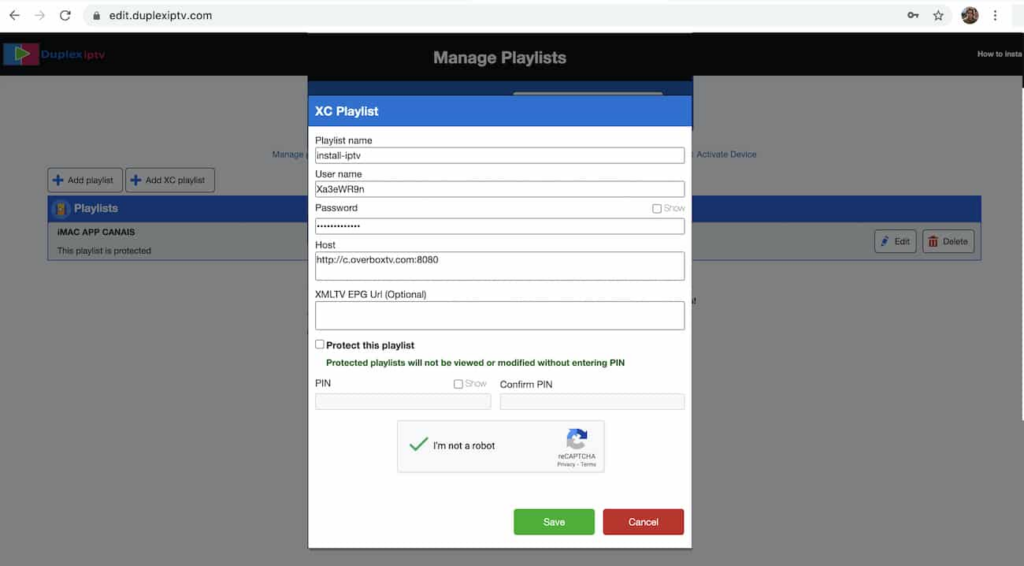 Refresh Playlists in appication
Then back to Duplex IPTV application and choose Refresh to reload Playlists , Then the playlist name must appears.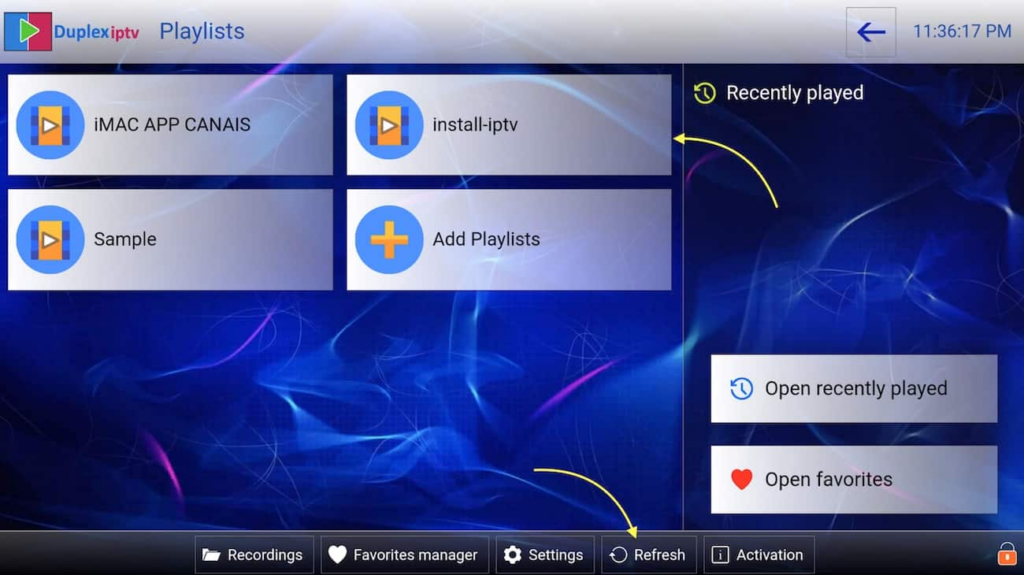 FAQ

How to install Duplex IPTV on Fire TV stick  ?
You can download the APK of Duplex IPTV via direct link by Downloader app in Fire TV , follow this steps:
1- Install Downloader on your Amazon fire TV .
2- Select the nav tabs from the home screen by pressing up, and scroll right to reach Settings. From this menu, select Device. Next, pick Developer Options and you should see a sub-menu that includes the entry 'Apps from Unknown Sources'. Select it, making sure it reads ON underneath.
3- go back to Downloader app. On the app's initial page you'll see a white box into which you can type a URL. Select it and type in:
https://firelink.app/duplexIPTV1.1.931.apk
Then install it .
(Replace the link in the attached pic with https://firelink.app/duplexIPTV1.1.931.apk).